Andrea's family is composed by a normal family however in the cartoon it is only seen his mother, Valeria, whose name is only revealed in a novel, and his baby sister, whose name is unknown and who makes a short appearence on the first episode of Season 1 and sometimes appears on a portrait in the Portraits Room. Andrea's father was never shown or mentioned in the cartoon but it is known that Andrea lives with both his parents.
In the novel "Segreti e Ombre alla Golden School", Andrea discovers that he was adopted.
Family
Valeria
Valeria is an ordinary woman who works to support her family. She has got strawberry blonde hair and light brown eyes. She usually wears a white shirt, black pants and a matching coat.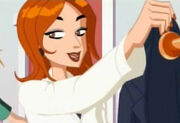 Baby Sister
Andrea's unamed baby sister is an ordinary baby, she is one year old, is curious and loves to explore pretty much like every baby of her age. She has got blonde hair, the same shade as Andrea's hair, caught in two braids and brown eyes.