Edoardo is the first human assigned to Dolce and Kabale through all Season 1 and the Movie. 
Edoardo

Voiced by

Massimo di Benedetto (Original/Italian),
Unknown (English Dub)

Other names

Edward (English, Portuguese Dubs and others)
Eddy (Spanish Dub)
Arthur (French Dub)

Age (at first appearence)

14

Origin

Affiliation(s)

Protected and Tempted by

Hobbies

Riding his motorbike
Playing pocker
Loves music, especially drums (Novels only)

First Appearence

Relationship(s)
Personality and Traits
Coming Soon...
Series
Movie
Old Comics Version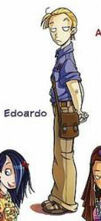 Unlike
Ginevra
and
Andrea
who changed a lot from their original comic appearence to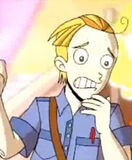 the cartoon version, Edoardo didn't change, he remained with his short platinium blond hair and brown eyes. As for his personality, he is the typic moneymaker, he never skips a chance to make money exchanging objects with his classmates, usually at very high prices, however he is also nomiated responsible for the cleanliness of the park, only to pick up pennies. From the old comic to the cartoon of nowadays it was only changed his guardian angel, from Miki to Dolce, for the pink haired angel never appeared in the comics, as for his guardian devil, remained Kabalé. Kabalé loves to have such an ensnared human to tempt and Miki has got lots of trouble into bringing some honesty into him. The only person who is capable of changing Edoardo's personality is
Mara
, the tender girl that he has fallen in love with.
Clothes
Extras
Coming Soon...
Trivia
Coming Soon...