Ginevra's family is composed only by Ginevra herself and both her parents, although in the cartoon it is only shown her mother once, whose name is unknown, it is known that Ginevra lives with both her parents.
Ginevra's mother appears for the first and only time on the seventh episode of Season 1. In the novel "Tutto Colpa di un Bacio", Ginevra sees her mother kissing another man.
Family
Mother
Ginevra's mother is an ordinary woman that works to support her family along with her husband. She has got orange hair, a lighter shade than her daughter's, and pale brown eyes. She wears glasses and uses a patterned greenish-brown shirt and a brown skirt.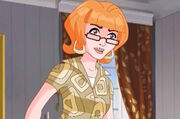 Ad blocker interference detected!
Wikia is a free-to-use site that makes money from advertising. We have a modified experience for viewers using ad blockers

Wikia is not accessible if you've made further modifications. Remove the custom ad blocker rule(s) and the page will load as expected.