Raoul is one of the characters of the old comic series. He is Alessia's older brother and lives with his father, a policeman, for their parents are divorced. He is Raf's love interest. 
Raoul

Age (at first appearence)

13

Origin

Affiliation(s)

Relationship(s)
Personality and Traits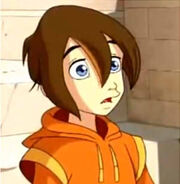 Raoul has got short brown hair and blue eyes. He likes to wear "street style" clothes, comfortable and colorful like his sporty nature, usually he is seen wearing a long-sleeved orange shirt with a hood and the design of a sun along with the words "Sun Shine Style", which relates his passion for images of the sun, and jeans. He is a boy full of life like all his peers but is also very responsible, he is a boy with the "helmet on his shoulders" he never leaves without his scooter but always drives carefully.
He is very close to his sister Alessia, he is very protective with her and his sister loves him a lot, he usually ends up going to get her whenever she gets in trouble. He is a mature boy for his age, sensitive and charming, with a not simple life and that is why sometimes he is seen sad and pensive, however that never stops him from being always ready to open up with a smile. Outside his solitary life, he is well-liked by his friends and idolized by his sister. He loves outdoors life and when he met Raf, he ceased to be skeptical about love.
Trivia
The name "Raoul" has origin in France and is a variant of the old english name Raul
The name "Raoul" means "wolf counsel"
Raoul has got a passion for the sun which can be seen in his shirts, backpacks and scarfs