This page is complete, this means it has got all informations and images in place and it doesn't need more edition
"You see...all we want is to be together and not have to hide it anymore!"
— Sulfus after refusing to go to university with his friends (Season 2)
Sulfus
is the leader of the
Devil's Enemies
. He is a 99% Devil who is repeating the first stage, making him the oldest characters of the eight protagonists in the series, followed by
Miki
. He was the third character being introduced, the first being 
Raf
, and the second
Urie
. 
Sulfus

Voiced by

Simone D'Andrea (Original/Italian),
Jason Griffith (English Dub)

Age (at first appearence)

16 thunders

Origin

Affiliation(s)

Powers

Power Fly:
-Fire Fly
-Body Fly
-Macro Fly
-Recover
-Iron Fly
-Blow Fly
-Prisma Fly

Mascot

Rival Angel(s)

Earthly Ones

First Appearence

Relationship(s)
Personality and Traits
Sulfus is a 16 thunder-old (Season 1) devil, he is described as cold, implacable, arrogant, vain, someone who isn't scared of anything or anyone and is often violent and overbearing. He is the leader of the group Devil's Enemies, Sulfus loves to tease Raf, with whom he fell in love at first sight. Sulfus has dark blue, short, spiky hair, amber eyes on which around the left one is a red tattoo of a star. Sulfus likes to wear motorcylce styled clothes and leather jackets.
Series
Seasons
Movie
Old Comics Version
In the comics Sulfus was slightly different from the current cartoon version but also has got a few things that remained when creating the cartoon version of this character.In the
old comics
, Sulfus had long raven hair, reaching his waist, his eyes were amber and a red tattoo in the shape of a star on his left eye. His wings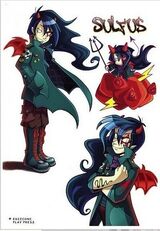 were red as well as his horns but smaller than the cartoon version. He wore a dark greenish-blue jacket reaching his waist, on the right side of his jacket are three pins, a yellow, a red and a white one, on the right sleeve of the jacket is the image of a white skull along with a second yellow pin, while on the left sleeve is the image of a red thunder; he uses a blue shirt, a purple scarf, red puffy pants and black and white boots.
Like the cartoon version, Sulfus failed in school but unlike his cartoon and older version, he had failed for a longer time while the cartoon version only failed one year since he is 16 thunders and the age of entering the Golden School is 15. As for the comic Sulfus' age, he is 13 thunders.
His personality and hobbies are almost the same as his cartoon version, he is arrogant, selfish, deceitful and conceited. He is part of the devils rockband and plays bass, his musical tastes are rock and punk, he is a skilled athlete in solitary stuff such as farting on a lava tail and surfing of geysers.
His projection is activated by Basilisco and he presents himself under the form of temptation. Something that happens as well in Season 2 however the cartoon Sulfus was the only character who never got a chance to try out the projection.
Sulfus has got 1% positive and that is the capacity of being able to fall in love. The comic version of Sulfus is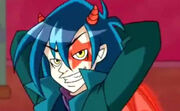 also in love with Raf though in this version his feelings seem to not be returned and he hides it quite well.
The old comics initally had a cartoon version but it was never released, being later replaced by the current cartoon where the characters are teenagers instead of children.
Clothes
Main Article: All of Sulfus' Outfits
Powers
Fire Fly
His wings change to black, orange and yellow ones that allow him to shoot fire flames. It's used for the first time on  1x01
Body Fly
Allow him to increase his strength, transforming his body in a bundle of violet muscles. It's used for the first time on 1x12.
Recover
A power that allows Sulfus to heal wounds but in exchange take energy from him, if used too much it could drain him. It's actually an Angel power in which he gains due to his worry for Raf and his will to protect her. It's used for the first time on 1x26.
Macro Fly
His wings change to red and beige that allow him to begome a giant. It's used for the first time on 1x46.
Prisma Fly
His wings spread the eternal chromatic essence of red. It's used for the first time on 1x51.
Iron Fly
His wings change to red and bluish-grey that allow him to shoot pieces of iron and also to protect his back from attacks, however if the attacks are too much or too strong it serves him nothing as a protection shield. It's used for the first time on 2x14.
Blow Fly
His wings change to red and yellow that increase the strenght on his fists and feet. It's used for the first time on 2x29.
Concept Art
Curiosities
Powers: Power Fly i.e physical 
Loves: The extreme sports, such as rafting between lava flows or windsurfing on geysers
Likes: his motorbike and girls
Feels: arrogant, ruthless, cold: a real devil
Secret: An Angel makes fire slid through his veins
Style: Motorcycle, pants, leather jackets
Colors: Black and red
Earthly One:  Andrea, a great, uncurable unrestrainable liar
Devilish Qualities: To be a leader, always and everywhere
Mascot: Basilisco, the loyal coral snake
Rival Angel: Raf, the saint
Transformation
Signature
Extras
Trivia
Sulfus' cartoon version was inspired by singer Bill Kaulitz, according to Simona Ferri, the creator of Angel's Friends
Sulfus' name is possibly a reference to the english word 'sulfur'
While in the cartoon Sulfus is 16 thunders, in the original comic he is 13 thunders
In both comic and cartoon Sulfus has feelings for Raf, with the difference that in the comic he takes longer to admit it.
In the comic Sulfus' hair goes down his waist while in the cartoon its short and spiky
In the comic Sulfus plays bass in the band named Devils, something that isn't shown in the cartoon version
In the comic its told Sulfus lives with his parents in a cave, in the cartoon however it's seen his garage and his house looks pretty much like a mansion
In the comic Sulfus wears bluish-green and brown clothes while in the cartoon he wears dark grey and dark blue clothes.
In both cartoon and comic Sulfus loves to tease Raf
In the comic its said Sulfus is afraid of doctors, in the cartoon however its said he fears nothing
While in season 1 of the cartoon Sulfus said he was afraid of nothing and nobody, in season 2 its revealed Sulfus' fear since the movie is to lose Raf to Terence
Ad blocker interference detected!
Wikia is a free-to-use site that makes money from advertising. We have a modified experience for viewers using ad blockers

Wikia is not accessible if you've made further modifications. Remove the custom ad blocker rule(s) and the page will load as expected.